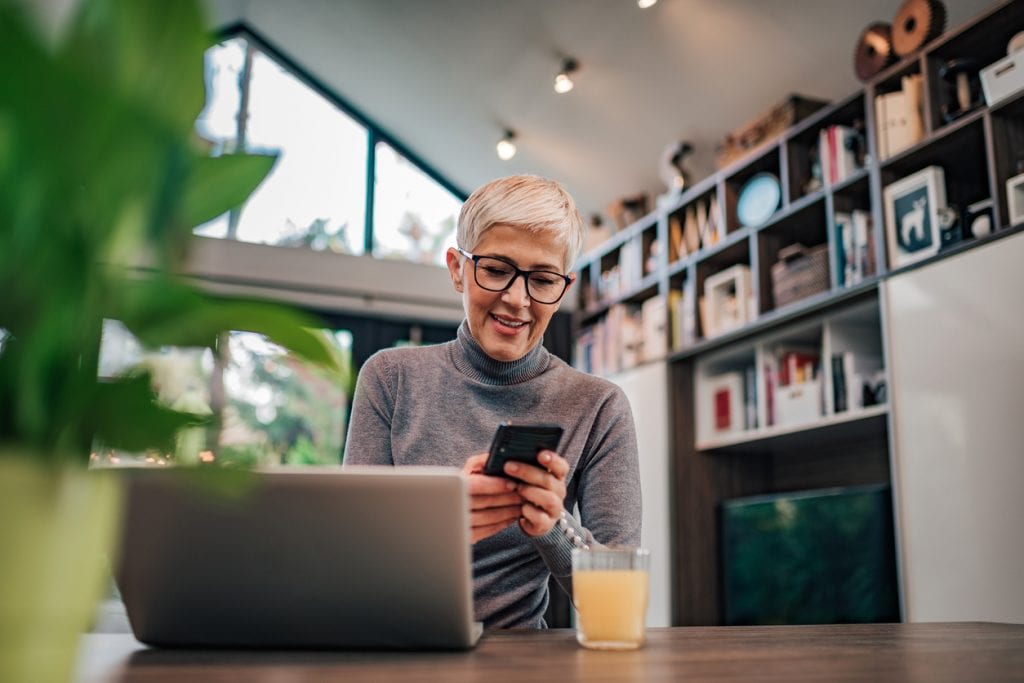 In 2020, nonprofits have been forced to make the jump to remote work.
The year's quick changes and ongoing volatility have made nonprofit work difficult – but they've arguably made it more important than ever before, too. And that means that finding the right approach to remote work is important. To keep serving people well, you need to be able to serve them from home.
We're here to help. You can create a high-quality remote work infrastructure, tailored to your nonprofit, at a cost-efficient price.
Here are five tips to get there.
1. Make sure employees have easy access to technology.
This is the fundamental base to cover: You need to ensure your people can access your technology platforms. Accessibility can be challenging, especially for nonprofit employees who, in addition to working at home, spend significant time in the field where access to the network through a stationary workstation simply isn't possible.
Thankfully, there are two methods that can help your employees to connect.
Virtual Private Network (VPN)
VPN access is the de-facto standard of network access for modern remote work. This technology uses software to create a secure internet connection by encrypting data using tunneling protocols. Basically, remote workers connecting via VPN will protect their data from external parties.
VPNs are fairly straightforward and cost-efficient to set up. If your nonprofit employees need to access a network drive, this is a great option to consider.
Application Access
The most basic level of access – which is, happily, also one of the most secure – is direct connection to cloud-based applications. For example, if you have a cloud instance of Office365, your employees can connect to the cloud application to transfer files without any need for a VPN or remote desktop access. If you're on G Suite, you can connect there to access your email.
This simplicity is especially beneficial for field workers who may be working with clients on-site; even if they only have an iPad available, they'll be able to access the information they need.
(Wondering which of these options is right for your nonprofit? Schedule a consultation with us today to discuss your needs and make easy access happen.)
2. Take advantage of nonprofit technology offers.
Second, nonprofits can improve their remote work infrastructure by being aware of special offers.
Many technology companies offer discounts on their products for nonprofit organizations. These can allow your organization to access top-level tools at cost-efficient prices.
TechSoup is one place to keep an eye on. It's a technology product philanthropy program that connects donors with organizations. On its website, you can search for nonprofit discounts on a variety of product including both software and hardware tools.
Notable offers to upgrade your remote working technology this year include:
In general, as you consider technology options, you should research available discounts. Even if the vendors you're considering haven't listed discounts on TechSoup, they may offer them directly upon request.
3. Tailor your tools to your organization.
This tip may seem obvious, but in practice, many nonprofits ignore it: You should tailor your remote working tools to your organization. You should not fit your processes to your tools.
Many standard technology offerings are built for businesses. For-profit businesses function differently than nonprofits. They are concerned with different stakeholders (customers, not donors). They budget to different timeframes. They exist for a fundamentally different purpose, and their processes reflect it.
All of this does not mean that you can't use business technologies for remote work in your nonprofit. Obviously, you can, and often you should. But it does mean that you should be careful about how you implement business technology tools in your organization.
Here are the two repercussions:
Choose technology that fits your nonprofit. This might mean opting for a nonprofit-specific offering over a business-standard offering (i.e. choosing Neon's CRM over Salesforce). Consider your options and be strategic.
Plan out your technology implementations. As you're implementing a tool, create a roadmap for its usage in remote environments. This may involve customization of the tool during setup so that it can best fit your users' needs. IT experts can help with this.
4. Create clear policies.
As you look to optimize your remote work capabilities, you should create a policy (or policies) to define how remote work happens. Often, policies are best worked through with an IT expert, but, at a high level, here's what should be included.
The Policy's Purpose
The policy should outline its goals and objectives so that employees understand its importance.
Eligibility
Your policy should outline who is required to adhere to different guidelines and rules for remote work. Will all users be required to access the network through the VPN? Will administrators have different privileges? Lay out who the policy applies to here.
Technology Access
You will want to define who can access the network and how they should. Should employees only do so through VPN? Should they only do so via organization-issued machines? Are there different access standards for personal devices?
Practice Protocols
How should employees use remote work technology? You'll want to define password standards, naming conventions, or backup protocols to ensure that your team uses your technology securely.
Enforcement
Who will be in charge of enforcing the remote work policy? What will enforcement look like? It's crucial that your policy answers these questions.
Again: The nature of your policy will vary depending on the nature of the work your nonprofit is doing. It's highly recommended that you consult with an IT professional to create and implement an effective policy.
5. Get good IT support.
Finally, to make remote work effective, it's worth getting good IT support.
Nonprofits with good IT support get two main advantages:
They benefit from strategic guidance in the selection and implementation of remote work technologies. Too many nonprofits have tried to implement DIY tools like VPNs in the wake of the pandemic. You may be able to get remote work off the ground by yourself, but there can be huge security issues in doing so without expertise. And, often, implementing tools without guidance can lead to inefficiencies in setup that ultimately hamper your mission.
They benefit from dependable support for IT issues. Even the best remote work setup can't preclude all issues from happening. Your employees may lose passwords. They might need help using software. Having access to remote IT support can ensure that issues are quickly resolved, letting your people focus on what matters.
Looking for more remote IT help?
Hopefully, these tips have been helpful as you consider how to improve your nonprofit's remote working technologies.
If you're looking to level-up your remote work technology with tools that are built to your organization's needs, you may find our free whitepaper helpful. It walks through the essential technology components you'll need to enable high-quality remote work. You can download it here.
If you want to move forward in selecting or supporting remote technology, let's talk.
At Xecunet, we've been serving or with worry-free IT service for more than two decades. As your business considers how to communicate in a work-from-home world, we can help you to evaluate, implement, and optimize the technology tools that are best for you.
Get in touch with us to get started today. We'll take care of the IT so that you can take care of business – from anywhere.