We offer managed IT services for an affordable, fixed monthly price. Our process keeps things running smoothly, and our expert local team is always there for support when you need it.
With Xecunet, You'll Get:

INCREDIBLY QUICK RESPONSE
Get help quickly when you need it. We're known for our responsiveness.

A TRUSTED
TEAM
Get access to a team of local experts with decades of experience.

IT PEACE OF
MIND
We prevent issues before they happen and keep your systems running smoothly.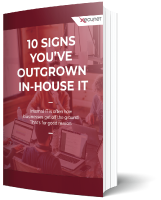 Download the Managed IT Guidebook
Internal IT is often how businesses get off the ground. And that is for good reason, but as more workstations are added and different systems are utilized, needs become more complicated. Sometimes, this means supplementing your IT needs with an outside team. Here are signs you may be ready to build your team.
Download