Your IT Should Be Predictable.
MANAGED IT SERVICES KEEP YOUR SYSTEMS RUNNING SMOOTHLY AT AN
AFFORDABLE MONTHLY COST.
We've found that many Frederick organizations deal with more IT issues than they should have to.
Systems are unreliable, responses are slow, and repairs are expensive. Many times people don't even realize how bad things are until something breaks.
Our managed services make your IT reliable through comprehensive system upkeep and services that are tailored to your unique needs. Instead of paying for expensive fixes when things break, you'll move toward preventing issues in the first place.
You'll get a dedicated tech on-site for regular checkups quick support. You'll get access to an expert local team when you need them.
And, most importantly, you'll finally get IT peace of mind.
Our Managed IT Services Include:

A DEDICATED TECH
We assign you a dedicated engineer who will gain a full understanding of your company's IT needs and optimize your system. We never outsource and you'll never get a "Junior Engineer." Our techs have decades of experience.

A DEDICATED HELP-DESK NUMBER
We provide our managed service clients with a dedicated telephone number to reach our help desk – and we're available for emergency support onsite, email, and telephone support 24x7. We're known for our quick response times.

PREVENTATIVE MAINTENANCE PROGRAMS
We don't just fix issues when they arise – we prevent issues from arising in the first place. Managed services include preventative maintenance programs to keep your network you're your business working to its full potential.

A FLAT RATE FOR 24X7 MONTHLY SUPPORT
Get rid of fluctuating IT costs. Paying to fix what breaks means incentivizing more time and money spent on repairs. Choose the right level of service for your business at a flat rate and stop paying more to fix issues that shouldn't have happened.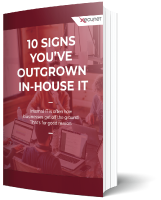 Download the Managed IT Guidebook
Internal IT is often how businesses get off the ground. And that is for good reason, but as more workstations are added and different systems are utilized, needs become more complicated. Sometimes, this means supplementing your IT needs with an outside team. Here are signs you may be ready to build your team.
Download
Our Comprehensive Coverage Can Include:
---
Complete PC Repair
System tune-ups
Spyware / Malware removal
Virus removal
Computer sales & upgrades
Support Services
Remote data backup
Hardware Virtualization
Migration to Cloud Services
VoIP Services
Security Services
Network Security
Network design & installation
Wireless networking
Network design & installation
Are you ready to get better IT for your Frederick business?
GET IN TOUCH WITH US FOR A FREE CONSULTATION. ON OUR CALL, WE WILL:
- Discuss your unique business context and IT needs
- Visualize what managed IT service might look like for you
TAKE THE FIRST STEP TOWARD IT PEACE OF MIND TODAY.
Contact Us