I always tell my team that there are lots of companies using the same tools and offering similar services to Xecunet. What makes us different is our customer service. I preach this so much that if you were to ask anyone at Xecunet what our #1 product is, the answer would overwhelmingly be "Customer Service." When customer service is your most important product, you need to have ways to track your performance. That's where CSAT and NPS scores come into play.
All customer requests result in a service ticket being created. This holds true whether it is sales or billing or technical support. Our ticketing system allows us to track the type of requests coming into our departments, resources attached to the tickets, time to resolution, etc.
Once a ticket is "Resolved" and closed our customers receive a follow up e-mail that simply asks, "How did we do?" followed by three distinct emoticons: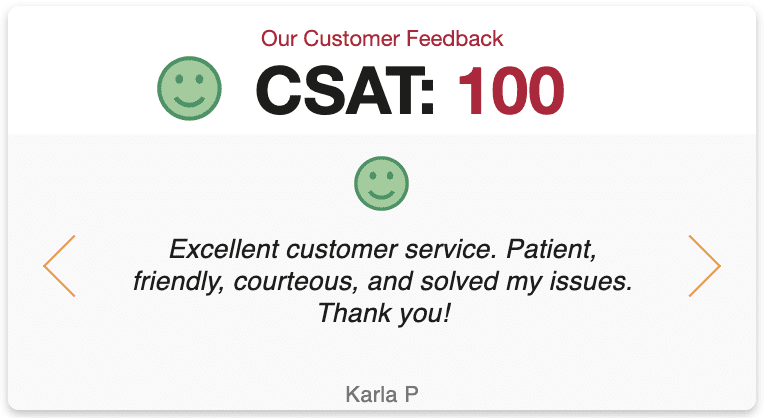 If you were happy, you obviously click the happy face. If you were unhappy, you click the sad face and if our support/solution was just "ok" you can click the "meh" face. You also have the option to tell us any detail you wish. Each emoticon is linked to a numeric score and our responses are aggregated to create our rolling 90 day customer satisfaction (CSAT) score. You can see our real-time CSAT score on the bottom of our home page.
Every survey response is also streamed real time to an internal channel in our Microsoft Teams instance. It's very important to our culture that everyone on our team sees our feedback, good or bad, so we can continue to improve and grow as a company. I'm proud to say that, as of this writing, it has been 235 days since we had a negative ticket review. (Yes, that statistic is displayed on a wall board in our call center!). In addition, survey results allow managers to reach out
In addition to our customer satisfaction surveys, we send out a Net Promotor Score (NPS) survey every three months that simply asks on a scale of 1-10 how likely it is that you would recommend Xecunet to a friend or a colleague. NPS scores can range from -100 to 100. A good score is anything above 60. World class service is anything above 70, and then there is Xecunet. Our current NPS score is 82.7.
I know it is easy to ignore, but next time you see a survey request come in, please take a moment to respond. It really is important to all of us here at Xecunet.