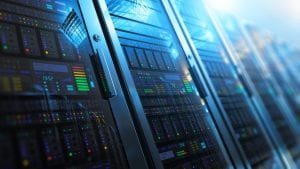 When you're working with a data center, you're trusting the core of your business with a stranger. Should the data center lose power or become non-compliant with security regulations, your data is left vulnerable, exposed, and at risk.
Choosing the right data center can be a long process, filled with tough decisions about your budget, relationships, and more. How do you know which data center is right for you? As your local Maryland IT company, our team here at Xecunet wants you to make the right decision for your business.
Here's what we believe are the top five factors to look for in a great data center.
Compliance
If you're storing your data in a non-compliant center, you're putting your data at risk of a cyber attack and your company at risk of a lawsuit. There are many different types of compliance, including GDPR, HIPPA, SOC 2, and more. The key is finding a data center that complies with the regulations your industry or company needs to follow.
At Xecunet, we pride ourselves on maintaining PCI, HIPAA, and DIACAP compliance. Our data center also undergoes an SSAE16 Type I audit on an annual basis. We believe that you deserve strong adherence to compliance regulations. If you come across a data center that does not comply with any type of regulation, or that says that they do but cannot provide proof, then we suggest that you move on.
Government regulations were put in place to keep your data safe and avoid cybersecurity breaches that could have a large impact on the general population. What if you're storing personal health information but your data center isn't HIPAA compliant? Not only is the data at risk, but if the data center were to be hacked, it would have a large negative impact on the lives of your clients.
Physical Security
If possible, we suggest visiting the data center before you choose a provider. Physical security is highly important for data centers. While it's easy to say your facility is secure on a website, it's harder to fake it in person.
When most people think security and data centers, digital security is what comes to mind. But physical security is just as important as cybersecurity. After all, a break-in at a data center could have huge consequences if unauthorized or ill-intentioned personnel gained access to sensitive information.
However, physical security isn't just there to protect against external threats but to defend against internal ones as well. What happens if an employee is disgruntled and decides to take it out on your clients? Physical security keeps an eye on internal employees to increase accountability and ensure that good record-keeping and access control practices are followed.
As a Maryland IT company, Xecunet is located in a safe area in Frederick, Maryland. But we still maintain physical security precautions including card key entry, hand geometry readers, pin-code, man trap, and indoor/outdoor video surveillance as well as security monitoring 24/7, 365 days a year.
Experience
When researching data centers, try and find out how long the center has been in business. If it's only been a year or two, you may want to consider finding one with more experience. While you want your data center to evolve with updated technology and security, nothing can replace the experience gained over time.
Founded in 1998, Xecunet has been a Maryland IT company for the last twenty years. Over that time period, we've seen it all – whether it's strong weather events, special client needs, or technology updates, we've used our experience to develop the most reliable systems possible. Our data center processes have been optimized with client service in mind and perfected over the decades we've been in business.
When choosing a data center, see if you can find out how long they've been in business for. What processes have they developed to better serve their clients? How do they handle emergencies? Have they ever had the opportunity to test out their emergency plans?
Many companies lack the technology and internal expertise to build and maintain a data center environment. Capacity and resource planning requires considerably more attention than is often anticipated. Make sure your provider has what it takes to maintain your data center before signing up.
Reliability
No matter where you are, your area could experience severe weather events. As a Maryland IT company, we're lucky enough to only occasionally suffer through extreme weather. Still, you need to make sure your business is safe should your data center be in the path of a hurricane, tornado, flood, or other extreme events.
Question your potential new data center about their emergency processes when it comes to weather. Have they ever lost power? How often do they back up the data?
Make sure that your Maryland IT company has the right systems in place to protect you if an outage occurs. Look for infrastructure that includes redundant routing, generators with emergency refueling contracts, independent power feeds to each customer cabinet, and fire suppression systems.
Don't underestimate the impact of excessive heat or cold on data center systems. Your data center of choice should have some sort of climate control system that includes automated failover and monitoring.
Uptime Guarantee
An uptime guarantee means that your systems will be up and running for the given amount of time, no matter what. Failure to maintain the guarantee is a breach of contract and gives you some recourse. For example, Xecunet offers a Service Level Agreement (SLA) that backs our 99.99999% uptime guarantee.
An uptime guarantee shows that the data center provider has confidence in its processes, services, and more. Their goal is to serve you and meet your interests. Without an uptime guarantee, you can't be sure of how reliable your data center truly is.
Xecunet is your Maryland IT company for fast, reliable, and expert data centers. We have the infrastructure, security, and experience to meet all of your data center needs. We provide colocation services that allow your business to focus on what you do best, leaving the task of infrastructure management to us.
If you need data center management, contact Xecunet today.